This website uses cookies to help us give you the best experience when you visit. By using this website you consent to our use of these cookies. Find out more about how we use cookies and how to manage them by reading our Privacy policy
Mermaid tails made in Germany
Magictail®real mermaid tails for swimming.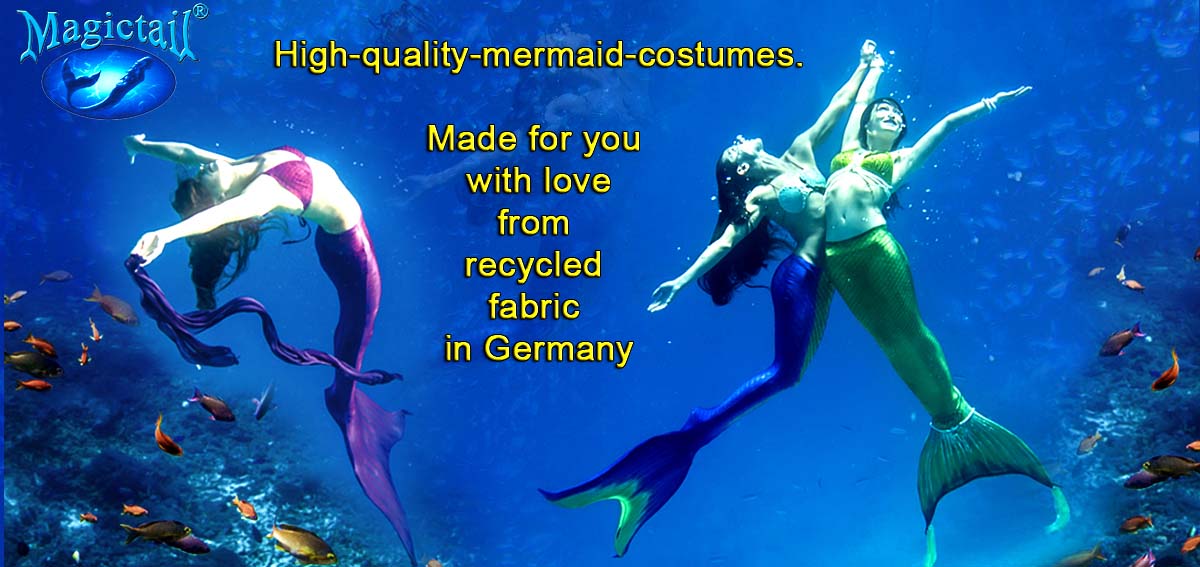 High quality
recycling fabric
printed and sewed in Germany!
Here at our webshop you can buy your mermaid tail from the factory directly. We supply similar bikini sets.
We have 3 different types of mermaid tails
As Moja asked to become a little mermaid 8 years ago there whre no mermaid tails in the world. Her mother Kirsten Soeller started to make a own mermaid tail by herself.
So she become the mother off all mermaids.
Starting with this first mermaid tail for swimming, trend sporting mermaiding came into the world. Boy and girls become mermaids all over the planet.
And still - we make all Magictail mermaid tails and mermaid costumes for swimming here in Germany.
Every participant of Miss Mermaid gets a genuine Magictail mermaid tail for free. Best realistic tails and the durable fin guarantee fun forever.
Magictails are handmade high quality mermaid tails and no cheap mermaid tails from China. I promise with chinese mermaid fins you will have no fun.
Our amazing mermaid tail costumes , were digitally printed with realistic fishscale pattern on best genuine italian fabric for swimming suits here in Germany.
Magictail means best quality and top service. Anyhow our fantastic mermaid tails stood fair.
At our both webshops you can purchase real mermaid tail fins by Magictail®
Here we have more comfort for save shopping and many new save payment options.
We offer Express Shipping and worldwide oversea shipping provided by FedEx.
Have fun with your fins- or fin fun with your tails :) best wishes from Kirsten Soeller und Wolf Juhnke